Groundworks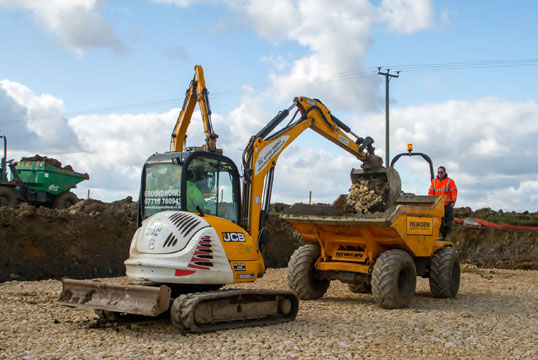 Groundworks are the cornerstone of our business. From clearing sites to digging foundations and footings, excavation to drainage and substructure to sewers, we keep customers all over Leicestershire and Rutland happy.
Our goal? To make sure your business, your farm, your home or your estate runs smoothly and to help you diversify, develop, improve and expand. Groundworks are literally the foundation for every building project so you need to be confident about the team you choose.
Professional service from a team of experts
If you have a project that requires groundworks, you can count on us for support and professional service from start to finish. Whether you just need us to lay a residential driveway or prepare a large scale commercial site, we are ready. You're in safe hands. Customers from diverse backgrounds have chosen us for a wide variety of groundworks projects.
---
Solid experience in a range of groundworks
Thanks to our investment in modern machinery and our skilled team, you can benefit from the following services:
Concreting
Site clearance and demolition
Surface levelling
Excavation
Driveways and pathways
Bases for sheds, warehouses, barns and storage units
Agricultural buildings
Equestrian stables, arenas and horse ménages
Drainage installations
Lake and pond excavations
Fencing and landscaping
There's very little that we haven't tackled, in terms of groundworks projects. We're here to get the job done. On time, on budget and to your complete satisfaction.
---
---
"We have been working with BTAC since 2014 and in that time they have been invaluable in providing help, knowledge and plant to our growing business, supplying labour and machinery with tasks from drainage work to laying concrete and a variety of jobs in between."

David Lovegrove, Director DPL Steel Buildings Ltd.
---
For a free quote, call us on 01664 900044 or contact us here. We'd love to hear about your project. You can count on us for help, support and advice about what might work best.
Like seeing pictures of big plant? Take a look at our Gallery to see man and machine in action.
BTAC Tweets
Twitter cannot show tweets right now. Please try again.
Facebook Latest
Please enter the Page ID of the Facebook feed you'd like to display. You can do this in either the Custom Facebook Feed plugin settings or in the shortcode itself. For example, [custom-facebook-feed id=YOUR_PAGE_ID_HERE].